Enjoy All of your Favorite Content on your HDTV or HD Projector
With ScreenBeam Pro, you can enjoy your favorite videos, photos and movies on the best high-definition display in the house. Connect the Receiver to your HDTV and you can wirelessly display content from a compatible Intel WiDi or Wi-Fi Miracast laptop, tablet, or smartphone to your HDTV. That means you can sit back and watch movies from Netflix, Hulu, Amazon, or YouTube on your HDTV. You can share your vacation photos and videos with the entire family, without having to huddle around a tiny screen.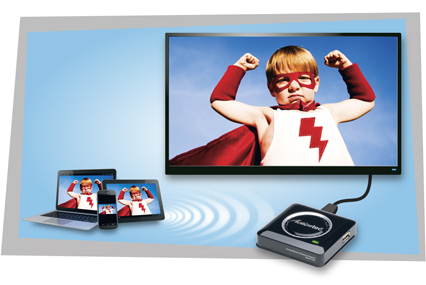 Optimized for 4th Generation Intel WiDi
ScreenBeam Pro can stream content from Intel WiDi 3.5 and higher devices, including Intel's newly launched 4th Gen Ultrabooks. With the remarkable optimization done for 4th Gen Intel WiDi, you'll enjoy all the advantages of Intel's latest wireless display technology¡Kincluding faster connect time, ultra-low latency, better picture, up to 1080p 3D, HDCP 2.1, USB over wireless and more2. Actiontec worked closely with Intel during the design of ScreenBeam Pro, ensuring cutting edge performance and seamless compatibility with the latest WiDi devices.

Compatible with Wi-Fi Certified Miracast Devices
The ScreenBeam Pro is based on the Wi-Fi Certified Miracast standard that simplifies discovery and setup, so you can easily mirror content from one device to an HDTV the home or office. Annual shipments of Wi-Fi Certified Miracast devices are projected to top 1.5 billion in 2016... that's a lot of interoperable devices.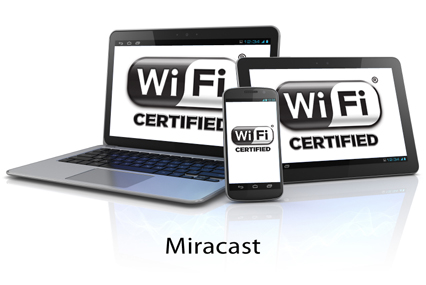 Don't have Miracast or WiDi compatible device? No problem. Use ScreenBeam Kit with Windows 7/8 Laptops or PCs today
Don't worry if you don't have a Wi-Fi Miracast or Intel WiDi capable device yet. The ScreenBeam Wireless Display Kit includes a USB Transmitter and Wireless Display software for compatible Windows 7 and Windows 8 Laptop/PCs. Click here to make sure that your Laptop/PC is compatible with ScreenBeam. Note: Windows 7 and Windows 8 not supported with ScreenBeam Pro.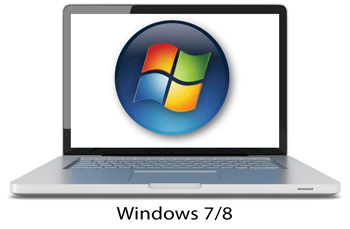 Optimized for NVIDIA SHIELD
ScreenBeam Pro is fully compatible with the SHIELD portable console and all its features. Unleash your favorite Android? and PC games, movies, music, and more: ScreenBeam Pro brings it all to the big screen. And, ScreenBeam has been thoroughly tested and approved by NVIDIA, so you can be sure you're getting game-speed connections and the fast performance of SHIELD's GeForce GPUs. Learn more...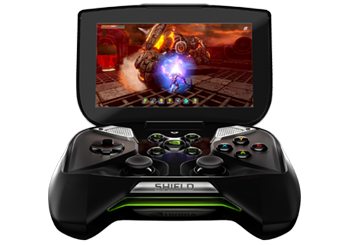 Easily Display Presentations or your Entire Laptop Screen in the Conference Room or Office
Need an impromptu meeting in the office? Have a big presentation in the conference room? With ScreenBeam and ScreenBeam Pro, you can push your entire laptop screen or just a portion to a large HDTV. And in the conference room, you can easily share your laptop screen with the projector for hassle-free presentations.
How Does it Work?
Actiontec's ScreenBeam Kit and ScreenBeam Pro allow you to mirror whatever is on your smartphone, tablet or laptop display onto your HDTV because it transmits whatever you see on your screen onto your HDTV wirelessly. Simply plug the Receiver to your HDTV, connect with your compatible device and enjoy your screen display on the HDTV.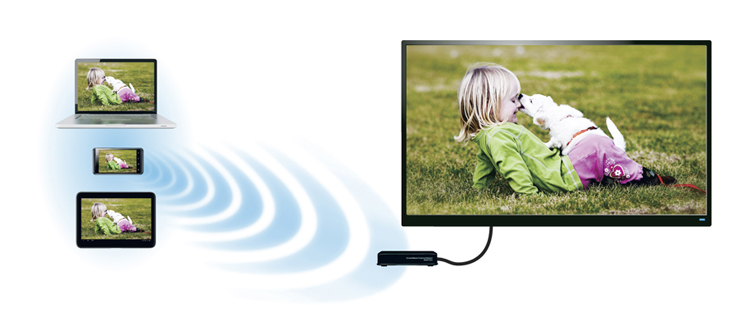 Brilliant Audio and Video Experience
Movies, videos, and photos will come alive on the big screen with support for up to 1080p full HD video and audio. With ScreenBeam Pro, you'll enjoy great picture and sound. And ScreenBeam Pro supports all the performance improvements of WiDi 4.0 for smoother video, better color and better image quality.
Better Quality with ScreenBeam Pro Specific Wireless Network
ScreenBeam Pro forms a dedicated wireless connection to your device and does not require an existing wireless network or line of site. This means you can stream HD content with ScreenBeam Pro without impacting the Wi-Fi network you use for social networking, voice, data, and more. Likewise, your Internet video streaming experience won't be subject to frequent hiccups, congestion, or slow-downs in your Wi-Fi network.
Get Support
Click on the product image below to receive more details on that product.

ScreenBeam Pro Compatibility List
Click on this link to see compatibility List.